Local children's book author Diane Davies has used fun and sentimental stories about the animals in her house and grandchildren to create charming children's books in her Life in the Neck series.
Davies' first book in the series, "Life in the Neck: New Friends" follows Delaney the Stag, Rocket the Rabbit, and Cardinal Red in the "neck," or long, narrow strip of land along a river, which just happens to be Davies' driveway.
His second book, "Life in the Neck: Squirrel Trouble" follows his grandson Eli and the adventures he has in building a log cabin in the neck.
"And it really does exist, they call it 'Fort Eli'," Davies said. "When Eli was about four years old, he and his father built a log cabin on our route."
Her latest book in the series, "Life in the Neck: Advent of Christmas" features both her grandchildren, Elsie and Eli, as they "celebrate the arrival of Christmas with an Advent wreath, lanterns for candles and Bible verses ".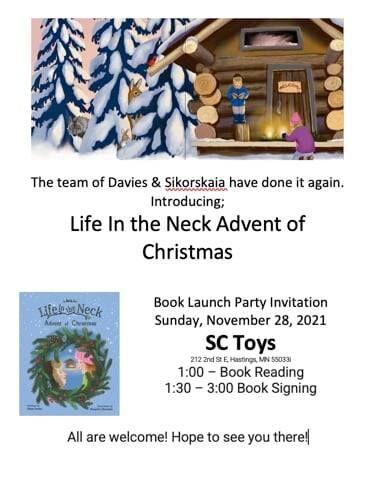 "It's a bit of a pretty sentimental Christmas story because on Christmas day they have the animals of the forest and the people who live here in the neck, all gathered for the coming of the baby Jesus", a Davies said.
To celebrate his latest book, Davies will be hosting a book launch party on Sunday November 28 at SC Toys in downtown Hastings.
At the event, Davies will read his new book "Life in the Neck: Advent of Christmas" at 1:00 p.m. and then sign copies of the book until 3:00 p.m.
"I think it's going to be a really fun event to have before Christmas," Davies said.
All of Davies' books can be purchased on his website at DianeDavies.com, where information about his book launch party can also be found.